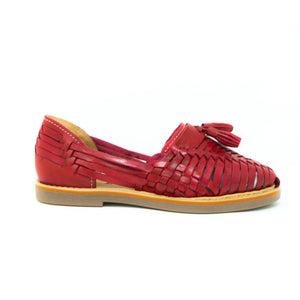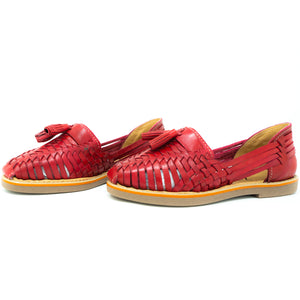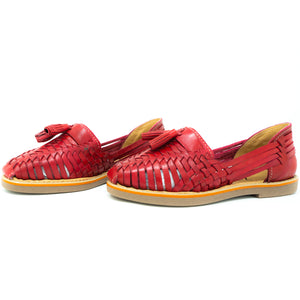 ROJO MOTITA 1274 Size 5
CLEARANCE SALE
We decided to do a CLEARANCE SALE on all our Guariz who sadly got some bumps and bruises along the hand-making process. Imperfections can be as minimal as a slight discoloration during the natural sun-drying process, bruises on the upper while being molded or other minor flaws pictured. We provided full 360 views of each pair for you to analyze before your purchase.
These sales are final.
DESCRIPTION
We chose a fierce fire red color for these hand woven beauties. Styled with a hand-crafted leather "motita" and a finished polished upper leather. The sole is finished with gripped rubber detail for ease of use outdoors. This easy in and out style has been designed for maximum comfort. A classic style that can easily go from a bohemian to chic look while bringing an artisanal component to your everyday attire.
PLEASE ALLOW 5-10 BUSINESS DAYS FOR FULFILLMENT AND SHIPPING OF ALL SHOES.
DESCRIPCION
Elegimos un feroz color rojo para estas bellezas tejidas a mano. Diseñado con una motita de cuero hecha a mano y acabados con un superior pulido. La suela esta acabada con un detalle de goma para facilitar su uso afuera. Este facil de entrar y salir estilo ha sido diseñado para el maximo confort. Un estilo clasico que puede ir facilmente de un look bohemio a chic mientras que trae un componente artesanal a su traje diario.
POR FAVOR PERMITA 5-10 DIAS HABILES PARA EL ENVIO DE ZAPATOS.